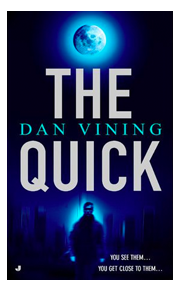 "Strange, haunting, cool - and very hard to put down."
— Michael Marshall, author of The Straw Men
"Dan Vining has reinvented the hard-boiled detective genre and given it a supernatural twist. A hip, high-octane plunge through LA noir…"
— Jeff Long, author of The Descent
"In the first entry in what will hopefully be a long-running series, first-time author Vining successfully weaves together two very different stories. The first concerns a decades-old murder case that the ominous and cool detective Jimmy Miles is hired to re-open. The second revolves around the fact that Jimmy Miles is dead—a sort of undead Spenser. He walks among the beautiful people of Los Angeles, seemingly one of them, with only the occasional stranger picking up his true nature. He is in fact part of a much larger group, the Sailors, people who have died but are "here, in the flesh... with us... this second version of yourself." Not all Sailors are good guys, of course; some of them, the Walkers, are downright sinister. This makes a terrific setting for a stylish mystery, and the fact that the supernatural elements blend so well with that mystery is to Vining's credit. The pace is as laid-back as Miles himself, and Vining's neo-noir prose sports a refreshing 21st-century hipness that owes nothing to Chandler and Hammett (trees are "gnarled, arthritic, almost bare but still alive," and the femme fatale's lipstick is "some shade of fifties red, edged in black in a way you couldn't exactly see when you looked for it").
— Publishers Weekly
"4 out of 5 stars. A Formidable Debut. Mr. Vining has created a refreshingly original character in Jimmy Miles, a P.I. with a supernatural twist. I felt honored to be in Jimmy's world. A man, who can love, eat, take care of a newly arrived Sailor, and surround himself with good friends mostly Sailors, but some not yet dead. I hope that Mr. Vining decides to make this a series. This reviewer will follow Jimmy wherever he goes. An excellent debut novel.
— Patricia Kersten, an Amazon reader/reviewer
"This dark urban noir supernatural private investigative story is different, quirky and scary because nobody, including the Sailors, knows why they still live or what they have to do to be at rest. Jimmy is a refreshingly original character who seems at peace with his state of affairs and helps others like himself when they first become aware of what has happened. This reviewer hopes that the protagonist stars in other novels because he is a complex person whose realm is interesting and his solving a case a delight to observe. Dan Vining has made a niche in the urban noir world that readers will love."
— Harriet Klausner, allreaders.com
"The Quick is full of movie glam. Beautiful, smart people with secrets, except these secrets are bigger than routine alcohol abuse or late-night drug binges. These secrets are unearthly. Jean Kantke, Jimmy Miles' employer, knows that it takes a man with a secret to expose a secret. This novel is well-written. I envision dark, haunting nights at every page turn. It is a little like Halloween in July. Swank detectives and the Los Angeles night never felt so intriguing. Anyway, how many times do you get to read about a detective from the living dead?"
—Taj Starr, BookReviewCafe.com
"I started reading this on the beach one Saturday afternoon. Good thing my kids know how to swim, because within an hour I wasn't looking up from the book. The originality of this detective novel shines around it like blue sometimes does PI Jimmy Miles, one of the undead who still has unfinished business to take care of on earth, although neither he nor his fellow "Sailors" know exactly what their unfinished business entails, nor precisely the rules of their unnatural existence. This existential angst, amplified by the prose style, adds noir on top of noir. And the LA setting is both literally and metaphorically perfect for Jimmy Miles's cruising in search of multiple answers, both internal to himself, and external to the decades-old murders he is asked to solve. The fact that no pat answers, even to the "who" of the who-dun-it part, are arrived at is part of this remarkable novel's appeal."
— Richard Lewis, Denpasar, Bali Indonesia
"A formidable debut. THE QUICK travels down the doomed streets of Chinatown, up the river to Heart of Darkness. It carries you away effortlessly into a dark Los Angeles that evokes Raymond Chandler and Ross MacDonald as it embraces the supernatural landscapes of Dean Koontz and Anne Rice. Its protagonist is as much a mystery as the truth he seeks to reveal. Dan Vining is a major new talent. I have heard that he is now working on a new Sailors novel. I am quite sure that some day people will attend conventions where they dress as characters from the books."
— An Amazon Reader
"Recently I had the pleasure of reading The Quick, which I enjoyed very much. As I currently make my living as a car dealer, I did notice a couple of errors when you were describing cars driven by Jimmy Miles. On page 32, you mentioned that Jimmy was driving a 1968 Fastback Mustang but when you stated on page 58 that 'Jimmy opened the hatchback,' you made a small error. Even though the 1967 and 1968 Fastback Mustangs did have a roof that sloped to the end of the car, there was a trunk at the back of the car, not a hatchback as we know it now. Ford did not offer a true hatchback in the Mustang until it made the Mustang II, which came out in 1974. Later, on page 92, you wrote 'Jimmy's '70 Dodge Challenger… had a Hemi 454 under the bulge in the hood.' General Motors, not Dodge, offered the 454 engine and that did not come with the Hemi head. Dodge did offer a 426 Hemi in the Challenger for which the company did gain some well-deserved recognition. I do not wish to appear critical, for I did enjoy the book. Frankly, I could not do your job but I do know something about mine."
— J.S., reader, car dealer, Scottsdale, AZ
"I used to chase books like whores. I ran development, Hollywood style. Then I quit. Now I'm on the Oregon Coast where it makes no difference that it's July 30, it rains anyway. This Smith Corona receives my bruises, each letter a punch. Maybe Jimmy Miles would use a typewriter like this, because of how real it'd make him feel. Maybe not. I loved your book. I loved the weary, burned out voice-over with words that crack. I loved the simplicity of vision, how you reduced a cluttered landscape to elemental forms, Edward Hopper paintings. I love that he's dead, or feels dead. That he has to touch wet leaves to remind himself that he's alive. You walk through a world of shadowed strangers… lonely for not knowing their names or ever seeing them twice. Jimmy is so still and observant: it's peaceful to be in his head, to see LA through his eyes. Thank you for a gift."
— R.B., Cannon Beach, OR

"Los Angeles private investigator Jimmy Miles (THE QUICK) is a Sailor, a drifter between the worlds of the living and the dead. When Angel, a street preacher, asks Jimmy to go to San Francisco to protect a young woman named Lucy, Jimmy discovers something is very wrong in the City by the Bay. Large numbers of people are committing suicide for no reason, and more and more Sailors are daily arriving in San Francisco. To keep the story moving quickly and add to the suspense, Vining uses the old trick of hard-boiled crime fiction in which the detective does not reveal everything he knows to the reader. Fans of Jim Butcher's supernatural noir "Dresden Files" series will enjoy this unusual work. A great read."
— Jo Ann Vicarel, Library Journal
"Jimmy Miles is a private investigator who never sleeps at night. Shucks he almost never sleeps. Why you may ask? Because he is a Sailor. A person who is lost between this world and the afterlife. It is believed Sailors have something left undone. Until it is settled they stay here on this earth. They are the same person they were before, but they are not recognizable to their loved ones.
Angel is a gentle soul who helped Jimmy when he first became a Sailor. He has asked Jimmy to follow a young girl and keep her safe. No other explanation. The girl's name is Lucy and Jimmy feels she is the saddest person he has ever seen. As she leaves town, she picks up a young boy who he assumes is her brother. The boy is a musician and Jimmy nicknames him Les Paul.
As the story proceeds, Jimmy realizes that someone, probably a Sailor, is tricking mortals into taking their own lives. He also sees Mary, a girl he loved many years ago. She is married and has a son, but Jimmy is torn about whether to reveal himself.
I quickly got into these stories and wanted Jimmy to be the hero. I loved the characters; both the leading and the small stand-bys and cared about what happened to them. I hope Dan Vining writes more for this series real soon."
— Susan Johnson, myshelf.com
"Jimmy Miles is a private detective who only takes cases that interest him. That is the perfect profession for a Sailor, a person who died but didn't pass on and in all ways that count remains alive. They interact with the "Norms", have all the money they need, have relationships with the opposite sex and don't need to eat or sleep although they do both. At the moment Jimmy is tailing Lucy, as a favor to his Sailor friend Angel to make sure she doesn't commit suicide.
Strange things are happening in San Francisco surrounding Lucy. Two women always seem to be always around her and she never notices him even though he has passed her while walking. The Norms are committing suicide in record numbers and the Sailors are edgy and nervous. When he sees Mary, the woman he loved and lost, Jimmy is reminded about similar circumstances when they were together in Los Angeles. Something dark is causing all the deaths in San Francisco just as it did in Los Angeles years ago and Jimmy is determined to find out what it is.
Dan Vining is one of the few authors who can consistently write great urban noir with a supernatural twist. The concept of Sailors and their similarities and differences to Norms is one of the reasons THE NEXT is so very entertaining. The mystery is well thought out and realistically within the framework of the storyline. Readers will adore Jimmy, a good Sailor who still loves the woman who walked out on him years ago. Readers will adore him for being so understanding while trying to help the living."
— Harriet Klausner, Futures Anthology Mystery Magazine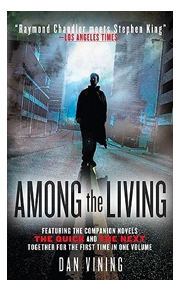 "This is the second time I purchased these books. I read them when they first came out, then gave them away in a move. But the mood created by the author stays with you. The plot lines alone are excellent and riveting, and the two books together give you a good vibe of the northern and southern California scenes. But the added dimension of the Sailors, in some strange physicial state between death and life (and perhaps death again?) is a chilling twist. It's difficult to avoid cliches, like 'it's a page-turner', but as much as I wanted to rush to the end, I also wanted to pace my reading to make it last as long as possible. The author's website says a new novel about the Sailors would be due in 2017, but that time has passed. Mr. Vining, if you're out there in Amazon-Land, please let us know when any new book is coming. I'll buy anything you write, and I imagine there are countless other fans like me as well."
— Robert Matthews, Amazon reviewer